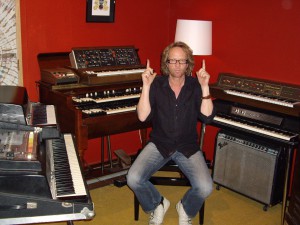 As a great fan of progressive and indie wave, in the late '80s Robin van Vliet co-founded the popular progressive wave band MEDIA.
Acting as keyboard player and second vocalist, the band went on to record tracks with London-based Nick Patrick. Robin's songwriting skills were noticed in publications, such as OOR and VOLSKRANT, and some of his songs signed with Warner and EMI. As he became known for his multi-instrumental skills on bass, drums, samples and keyboards, he was invited to join the well-known Dutch percussion group SLAGERIJ VAN KAMPEN, who also worked with ADRIAN BELEW and UMAR BIN HASSAN. He contributed keyboards, guitars and vocals to the indie-Americana albums of THE SECRET COMBINATION, working together with members of URBAN DANCE SQUAD and SECRET SOUNDS. He toured with singer ANOUK and worked as a session musician on recordings of RACOON, which became gold and platinum records. While working with these various musicians Robin has never stopped composing and recording his own songs.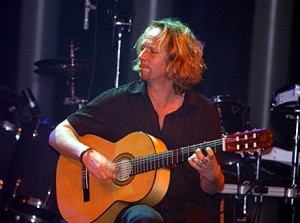 Over the past few years, thanks to the inspiration and encouragement of friends and colleagues, Robin has shifted his focus to recording his own material.
In this creative enterprise, in which he builds on the experience of recording over 200 of his own songs and coaching bands at the Amsterdam conservatory, He is exploring new musical directions at Heartland Studios in Amsterdam. Benefitting from the expertise of musician friends (on drums, slide guitar, trumpet, backing vocals) this project has produced the indie/folk-pop album 'First Second'. The richly layered arrangements of its songs are full of melodic invention and surprising harmonies, lending themselves well to live performance.